We are very happy to announce a media partnership between
Shades of Darkness Magazine
and
This Is Black Metal
As part of this collaboration, you'll be able to read excerpts of what's in our magazine on the webzine This is Black Metal at the end of July. If you're still not convinced to buy our magazine, this sample will definitely appeal to you!
Interview with
Graveland
in the first issue of Shades of Darkness Magazine #1
Part of an interview with band taken from the first issue of Shades of Darkness Magazine!
---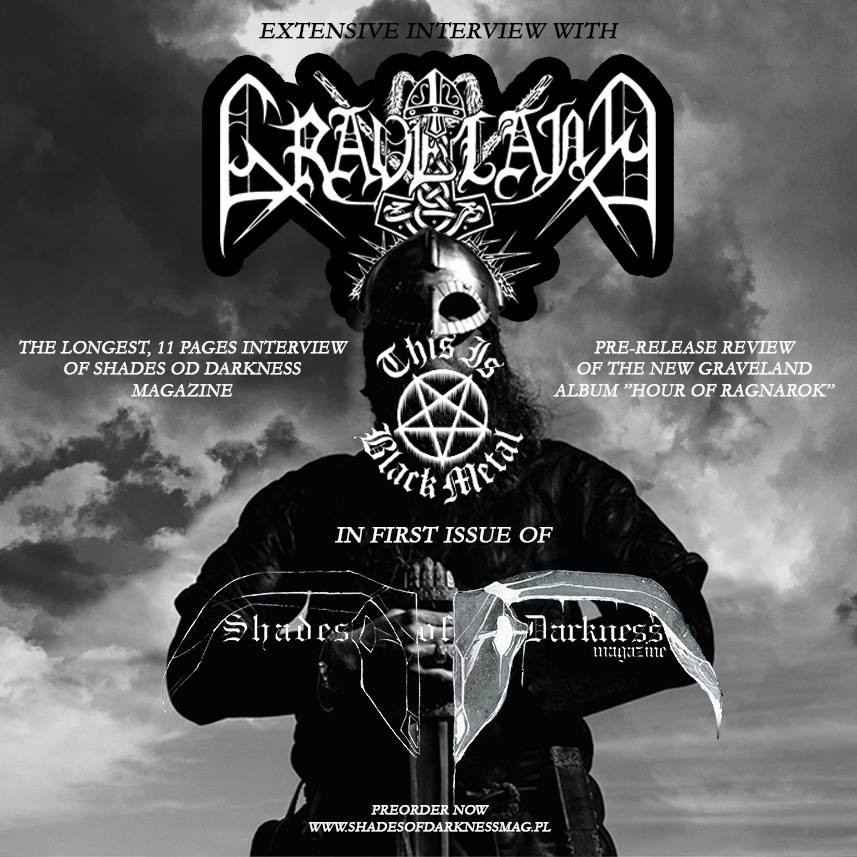 Interview by Shades of Darkness Magazine
~ No listener of black or pagan metal needs to be introduced to this character – the charismatic leader of Graveland, always following his path, occupies one of the leading places in the pantheon of Polish legends, and the band's fame is spreading all over the world. Despite, or maybe just by avoiding media attention, he made a name for himself by creating many albums that are considered to be cult classics of the genre. This year, Graveland's latest work entitled "Hour of Ragnarok" will be released. Before we can listen to it, let's hear what the creator has to say about this and many more interesting topics. Before you is an interview with the man, the myth, the legend – Rob Darken! ~
Robert: You're currently getting ready to release Hour of Ragnarok. What prompted you to release this disc under the colours of several different labels, depending on the version?
Darken: People who want to listen to Graveland keep coming. The band's music and merch are sold mainly by small labels that I would describe as the modern underground. However, it is not a large distribution. Fortunately, there are more fans and many of them would just like to buy a CD at a festival or in some local store. When there is no original merch, bootleggers start to show up! Graveland is already too famous for it to exist underground. That's why I had to organize something on a larger scale. However, I couldn't count on the help of large companies, which as a matter of fact, have become unbearably politically correct and they avoid Graveland like vampires avoid holy water.
"Hour of Ragnarok" is an album with 7 new songs plus "River of Tears" bonus. Certainly many fans will want to buy a vinyl or CD album. So a few spread all over the world will be able to get orders more easily than one label in Europe would. That's why the new album will be released on several labels at the same time. I expect it will have a stronger presence and the prices will be better in that way. In Poland, the album will be available at Mara Productions, which also publishes interesting Graveland clothes.
R: As the first preview of the new album you released a refreshed version of "Possessed by Steel" from "Thunderbolts of Gods" a year ago. Why this track and why didn't it appear on the "Hour of Ragnarok" track list?
D: This song in the new arrangement sounds much better than the one on the album. Fans received it well at concerts. I wanted to have this track well recorded in this version, especially as it gained dynamics and brutality in the new arrangement. The occasion for this was to test the recording studio in Italy, Rocketbuster Studio, recommended to me by Ahrin (new drummer from Graveland). Ahrin has recorded in this studio many times and managed to negotiate a very good price. We recorded the drums for "Possessed by Steel", and I did the mixing of the whole song myself. We did all this remotely, only via the Internet. I was pleased with the result of this song and knew that this way we could make the whole album. In 2020, due to the epidemic, recording conditions were not easy. "Possessed by Steel " convinced me to try to make the whole album in this way. There was no room for him on the new album as we added "River of Tears" as a bonus. "Possessed by Steel " will be on a split album with some Finnish band! We already have three new songs ready for this split, and the fourth will be "Possessed by Steel". Split should be ready for release in fall 2021.
R: In "The Wolf of Twilight" you hear a lot of folk themes similar to the Nokturnal Mortum style. Was it influenced by your collaboration on "The Spirit Never Dies"?
D: When making music for "Hour of Ragnarok ", I wanted to go back to the roots of Graveland, to the albums our fans like the most, "Thousand Swords" and "Creed of Iron". This folk style of mine is a remnant of what I created on "Thousand Swords". This is a different type of folk than the one we can hear on Nokturnal Mortum albums. I drew my folk inspirations from early, medieval music, and those that we hear in the music of Nokturnal Mortum are ethnic and come from folk music. Nevertheless, it may seem similar, although someone who knows folk music will recognize the sources.
Another difference between Graveland and Nokturnal Mortum is the selection of folk instruments used on the albums. Noctrurnal Mortum uses ethnic instruments such as cymbals, pipes, probably also Ukrainian domras and many others whose names I do not remember.
I used only symphonic instruments on the album "Hour of Ragnarok". This symphonic setting includes such instruments as: oboe, clarinet, basson, piccolo, tuba, double bass, symphonic trumpets of the French horn type, violas and cellos. I wrote separate tracks for all these instruments. It took me a lot of time, I think I was quietly dealing with the keyboard itself for half a year. It made me tired, sometimes it felt like a brainwash. I think that I could improve these songs, but you can't do it forever. Inferna Profundus Records, which releases the album on vinyl, began to exert a painstaking pressure. It forced me to end this fun and definitely finish working on the album. All songs on the album have such a symphonic setting as "The Wolf of Twilight", of course there are also choir parts, intros and my singing attempts, let's say with a normal vocal!
Weland: The last question concerns the war waged by black metal. Graveland itself is strongly rooted in the themes of combat, battles, wars, so the question: What are you fighting with? With the world? With your own weaknesses? With God? And finally, will this war come to an end and with it the history of the legendary Graveland?
D: I think it is a commitment to certain values ​​that cannot be questioned because they are essential to our survival! Back then I didn't understand these things, I was dominated by the self-destructive ideologies of black metal origin! I didn't think about the future. It didn't matter what happened next, what mattered was destruction, evil in its true medieval incarnation! The music I listened to could fuel this perversion! Early albums by Bathory, but also other dark works, such as the albums Possessed, Sarcofago, Slaughter, Bulldozer, Venom! At one point in my life, I was only looking for darkness and darkness in metal music! It was food for my soul! There was also room for bands such as Manowar, Manilla Road. When Bathory changed his style to Viking metal, I was shocked, but also changed.
This is the power of metal music that can be envied by all other genres of music.
There are still many metal fans around the world feeling it and following it! For the truth, for the highest values ​​valued by our ancestors and fathers. They are still sung in metal music!
Bathory, Manowar and Manilla Road had a huge impact on me. I wanted to be like them.
They were faithful to their music, they did not change until the very end. They remained true to their style and image! It is a certain path for artists that I am trying to follow. The sword, then, will only be put aside after I die.
Graveland – Hour of Ragnarok (Full album)
---
Explore further: